1. Design, size, efficiency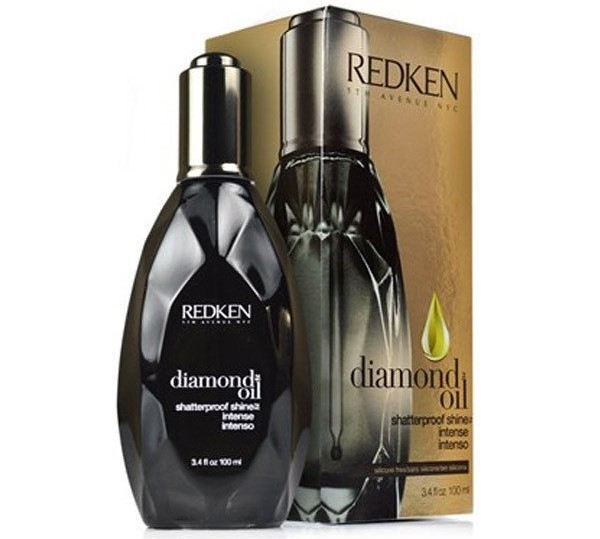 Diamond oil from Redken is one of the prettiest products available on the market. Glass bottle looks as a rough diamond and has a deep, dark green colour. 100 ml of product is facilitated with a glass pipette, with which you apply the oil. The cap is cleverly designed – all you need to do is to press the button to dose a proper amount of the product. It ensures hygiene and ease of application.
Oil is efficient but fails to impress by the scent resembling artificial, chemical lotions used in salons.
2. Composition
Redken Diamond Oil Shatterproof Shine Intense is a prestigious product. It contains high concentration of natural oils, with a small capacity of silicones and other harmful chemical substances, such as SLS, SLES and parabens.
Sunflower oil – perfectly, strengthens hair, rich in carotene and vitamin E which are essential for preserving healthy appearance and youth of hair. Moreover, this oil maintains proper moisture level of hair and provides resilience. It contains high concentration of linoleic acid, which is responsible for proper functioning of hair cells.
Olive oil – treats very dry and damaged hair. It provides resilience and prevents brittleness. Oil adds gloss and facilitates styling, additionally, strengthens its endurance, thanks to which it becomes resistant to any mechanical damages. Olive oil prevents the ammonia occurring in hair dyes from overdrying our strands.
Jojoba oil – moisturises and quickly regenerates hair. Nourishes it and stimulates cell renewal, allowing hair to regenerate faster and age slower. Additionally, jojoba oil also protects hair from harmful effects of sun radiation, frost and wind.
Coconut oil – contains a lot of potassium, magnesium and zinc. Absorbs quickly into the interior of hair, creating an invisible coating. Thanks to this, hair is protected from any damages. What is more, oil enhances shine and preserves colour. Coconut oil also contributes to the reconstruction of the protein structure of hair.
Camelina oil – is rich in unsaturated fatty acids (contains about 90% of them). They nourish hair, block the destructive effects of free radicals that contribute to ageing of hair, loss of resilience, fragility and increased drying of the ends. Oil also prevents toxins from penetrating into hair structures. It works as a filter which transmits valuable ingredients for hair and not allowing the destructive elements.
Apricot kernel oil – has a beautiful scent, absorbs quickly and provides hair with beautiful gloss and deep colour. It helps to style hair and perfectly conditions it. Additionally, it helps to maintain proper level of hair hydration.
3. Application
Redken Diamond Oil Shatterproof Shine Intense ought to be applied with the glass pipette. Only two or three drops are enough to apply on dry or damp hair – before or after washing. Keep in mind that this oil should be applied only on hair, avoiding the scalp. Apply it from the mid-length, that is from the ear level, or only on the ends. During the day, it can be applied several times on dry wisps – whenever we feel our hair lost vitality and resilience.
4. Effects
Redken Diamond Oil Shatterproof Shine Intense is not recommended strictly for colour-treated hair. Its main task is to improve shine and enhance the colour of all kinds of hair – regardless of whether it is coloured or have a natural but slightly dull shade. Oil regenerates damaged hair, provides resilience and makes it soft to the touch. Furthermore, it will perfectly care of damaged ends and protect against harmful sun radiation. What is more, it will make hair less prone to breakage while the ends will gain nice appearance and prevent frizz. Additionally, oil will facilitate styling, tame unruly wisps and prevent from damages caused by styling treatments. Redken Diamond Oil Shatterproof Shine Intense ensures thorough regeneration not only to colour-treated strands but also natural ones, free of ammonia.
5. Conclusion
Redken Diamond Oil Shatterproof Shine Intense is recommended for all hair that is dull and lack of lustre, dry and unruly. The product impresses with exclusive packaging and a variety of natural oils. Moreover, it is efficient and its use can be adjusted to the current hair condition. Unfortunately, Redken oil has an unpleasant scent, which persists on hair throughout the day. What is more, you have to be careful not to break the glass bottle or the pipette.