1. Design, size, efficiency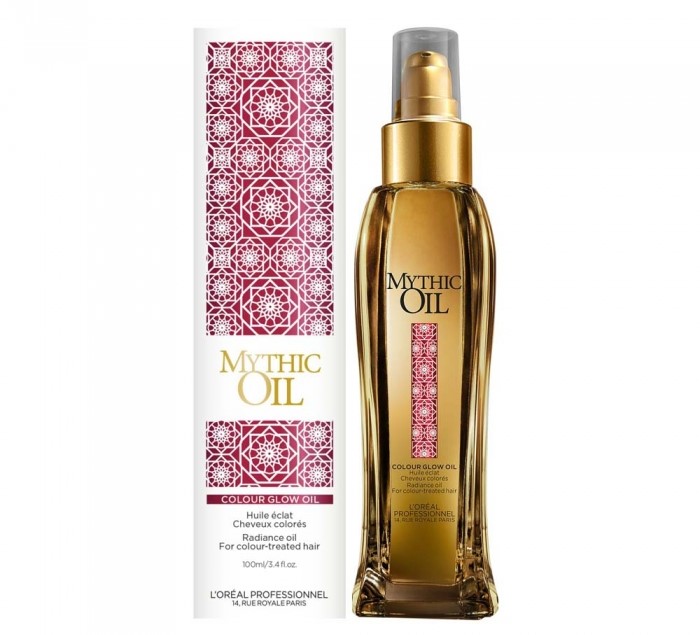 Hair oil for colour-treated hair from the L'Oreal Mythic Oil series is a product that comes in an orange, glass bottle, of irregular shape. The bottle has an oriental design. It is closed with a plastic, copper coloured pump.
The oriental look of the product refers to a ritual of hair oiling, known and done for centuries by women from the East.
Mythic Oil Colour Glow Oil is characterised by strong, but quite pleasant, spicy scent. It has a capacity of 100 ml and is very efficient. For a single treatment, 1 – 2 drops of oil will suffice.
2. Composition
L'Oreal Mythic Oil consists of four high-quality, natural oils. Each of which is rich in good fatty acids that fight free radicals, preserve the colour and radiance of dyed hair.
Avocado – is a very nourishing and regenerating oil that contains a complete set of vitamins your hair needs to look beautiful and grow healthy. Avocado oil is also rich in minerals, such as magnesium, manganese, iron, phosphorus, potassium, sodium and zinc. Additionally, it also comprise many fatty acids from the omega – 9 and omega – 6. What is more, oil strengthens natural protective barrier, thanks to which, hair does not lose moisture and regenerates faster.
Grape seed oil – is a wealth of unsaturated fatty acids. It is rich in vitamin E, called the vitamin of youth due to its fantiradical properties. Additionally, oil adds shine and perfectly smooths hair without weighing it down.
Cranberry oil – improves hair resilience, protects from premature ageing. It is well absorbed and provides deep nourishment. Furthermore, it contains a number of minerals beneficial to hair, such as iron, calcium, magnesium, potassium, sodium, phosphorus, zinc, copper, manganese and selenium. It will not only take care of colour-treated hair but also protect it from overdrying.
Linseed oil – is a remedy for hair damaged due to styling treatments, which include dyeing. It rebuilds and strengthens strands. Moreover, it perfectly smooths hair, prevents frizz even of the most overdried hair. Linseed oil prevents hair loss, improves its growth, resilience and provides softness.
3. Application
Mythic Oil Colour Glow Oil can be used on both damp fair after showering and dry hair – whenever we feel the need. Another good solution is to use it before styling or blow-drying. It will not only provide beautiful gloss and appearance but also protect against harmful effects of hot air.
4. Effects
Mythic Oil Colour Glow Oil works both on the surface – creating an ultra-thin, protective coating and also deeply regenerates on the inside. Therefore, hair does not become damaged after constantly treating it with ammonia. Oil ensures the proper level of hydration, strengthens hair, guarantees deep colour and shine for several weeks. Additionally, it protects dry ends.
5. Conclusion
Oil provides luxurious care to colour-treated hair. Improves its appearance, preserves colour. What is more, it is very efficient and has strong, oriental but pleasant scent. The richness of oils used in this product is also a big advantage. Another one considers the variety of uses. However, when it comes to the disadvantages, we must mention the glass bottle – even though it looks pretty – it can shatter after falling on the floor.