1. Design, size, efficiency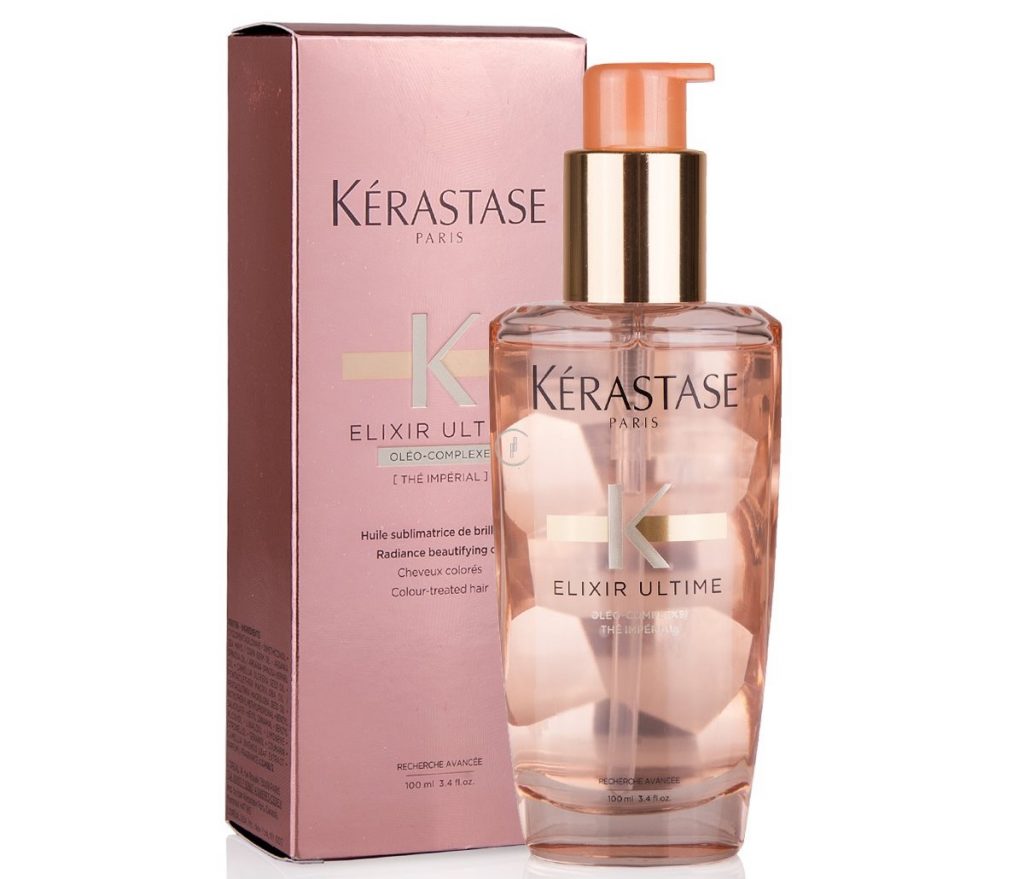 Product from Kerastase comes in a beautifully designed glass bottle, equipped with a big, useful pump.
It has the capacity of 100 ml and is very efficient – it will last for about 3 – 4 months of use.
2. Composition
Four natural oils, dominating in the composition, determine the high value of the cosmetic.
corn oil; perfectly regenerates hair, nourishes and provides elasticity. Thanks to it, you hair gains healthy appearance, resilience, begins to shine and is protected against adverse weather conditions. Even dry radiator air or air-conditioning will not be a threat to it.
argan oil; protects hair from styling treatments, due to which hair can be easily damaged. Those are: dyeing, blow-drying, straightening, hot curling wand, vigorous brushing and using rubber bands. All these factors cause weakening of hair bulbs. Due to the valuable properties of agran oil, hair is not only protected from the outside but also regenerated on the inside.
camellia oil; conditions hair very well, smooths it and facilitates styling. Additionally, strands delight with resilience and become silky to the touch. Camellia oil, also known as tea tree oil, helps to remove any impurities from the surface of the hair, which improves penetration of valuable components.
pracaxi oil – is a light, not a very runny oil that is easily applied on hair and quickly absorbed. Strongly moisturises hair, protects from harmful UV radiation and from overdrying cosmetics (including ammonia in the hair dyes). It ensures lustre, resilience and the depth of colour.
3. Application
Kerastase oil can be used in a variety of ways:
on dry hair before styling – as a product responsible for nourishing, conditioning and improving styling.
on dry hair prior to washing – it will help to get rid of any toxins and impurities from the surface of hair. Additionally, it will penetrate into hair cuticles providing regeneration.
on styled hair – to emphasise the beauty and shine and to enhance the colour.
on the ends – exactly where hair is especially exposed to damage.
4. Effects
Kérastase Elixir Ultime Oleo – Complexe The Imperial is an irreplaceable step in the care of colour-treated hair. Well composed natural oils instantly condition hair, preventing overdrying, colour fading and brittleness. Oil regenerates hair from the inside, protects and preserves on the outside, strengthens hair bulbs, facilitates styling and combing.
5. Conclusion
Very prestigious, beautifully designed product that contains a large concentration of well composed natural oils. However, you must be careful not to drop the glass bottle on the floor, it might shatter. Oil is efficient, its pleasant scent lasts long on hair. The fact that the product can be used on hair in several ways, allows to adjust the type of care both to the level of damage and the lifestyle we lead.