1. Design, size, efficiency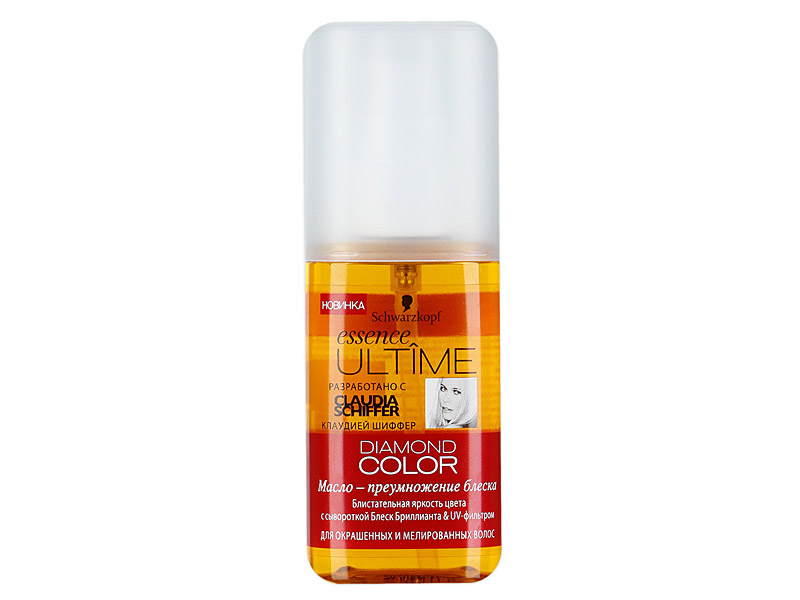 Schwarzkopf Essence Ultime Diamond Color comes in a simple, plastic bottle with a cap and a small pump. It has 75 ml capacity, a yellow colour and delicate, a bit oriental scent. Oil has rather runny consistency, therefore, it runs out more quickly. Essence Ultime series is co-created by a famous model – Claudia Schiffer.
Diamond Color version is dedicated to colour-treated hair. It helps to regenerate and enhance its beautiful colour.
2. Composition
Essence Ultime Diamond Color is a product that contains good alcohols that retain water inside hair and have moisturising effects. It is extremely important for colour-treated hair, which tend to be very dry due to the use of ammonia. The most important components of the product from Essence are two high quality oils: sunflower and apricot kernel oil.
Sunflower oil – treats extremely dry hair. It moisturises it, adds gloss and resilience. Additionally, it makes hair smoother and tamed. Prevents static. Moreover, it successfully nourishes and protects hair from any damages and adverse weather conditions.
Apricot kernel oil – has good absorbance. Penetrates quickly into the interior of hair. It regenerates hair from the inside. Moisturises and prevents moisture loss. Apricot Kernel oil well nourishes hair and intensify its shine. At the same time, it will overcome dullness and enhance its colour. Additionally, it a very gentle product with a beautiful, subtle scent.
The effects of oils are strengthen by a complex which is a combination of keratin, panthenol and proteins (Ultime-4-Complex). The components provide gloss and create a protective coating that coats with unique gloss, enhances the colour of dyed hair.
3. Application
Oil is of runny consistency, and – although it is not very efficient – it is easy to spread. It does not weigh hair down but leaves a nice, delicate scent. Essence Ultime Diamond Color can be used in three ways:
Before washing hair (it is enough to leave it in for 15 – 30 min).
After washing on damp, towel-dried hair. Oil will protect it during styling, facilitate combing and give shine.
On dry hair, to immediately enhance its brilliance and colour, ensure healthy appearance and protect throughout the day.
4. Effects
Essence Ultime Diamond Color is an oil that combines the power of natural oils and extracts of pearls, keratin and panthenol. All this in order to strengthen, regenerate and protect coloured hair from dryness and damage. The oil brings out the colour of dyed hair and preserves from fading.
5. Conclusion
Essence Ultime Diamond Color contains only two natural oils and has a small capacity. Due to its thin consistency, we run out of it very quickly. On the other hand, it takes a good care of dyed hair and preserves the colour, shine and resilience. Additionally, it has a nice smell which remains on hair for a relatively long time.