1. Design, size, efficiency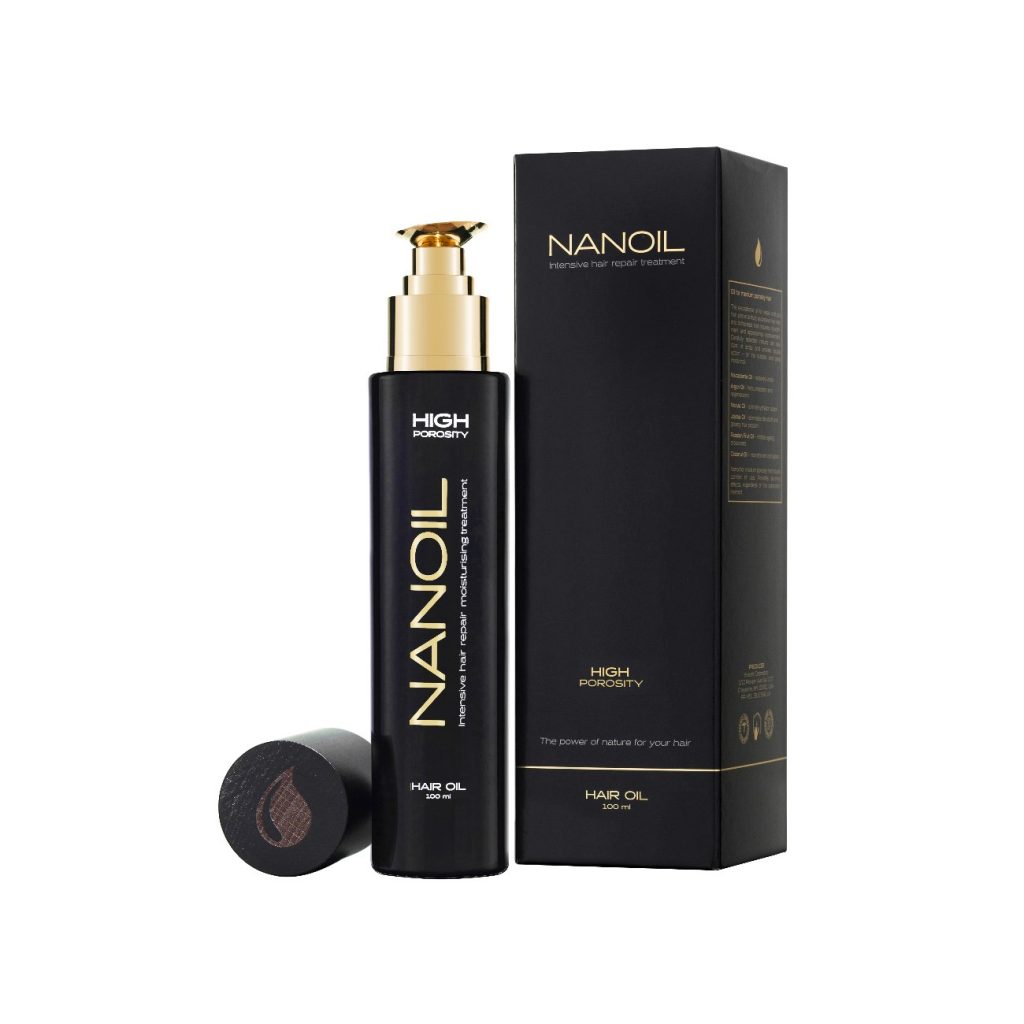 A very nice, black, smooth and cylindrical dark glass bottle, facilitated with a precise pump that does not get stuck and precisely dispense the right amount of oil. Dark glass bottle protects precious oils from harmful effects of the sunlight.
Nanoil Hair Oil has a capacity of 100 ml and is very effective. Also, it has a beautiful and gentle scent.
2. Composition
The composition of the oil changes accordingly to the described version of oil. Not without reason Nanoil is available in three versions; each is designed for different types of hair porosity. Therefore, you must be aware of the fact that there is no one, universal remedy for all hair types. The level of porosity determines whether we have thin and brittle hair or coarse and thick. Each type requires varied treatments and a diversity of nutrients and active ingredients. Therefore, Nanoil offers three different types of oils to provide proper care and help overcome various hair and scalp problems. You can choose from:
Nanoil For Low Porosity Hair (thick and rough)
Nanoil For Medium Porosity Hair (frizzy, dull and unruly)
Nanoil For High Porosity Hair (dehydrated, damaged and brittle)
The official website includes thorough descriptions of each hair type, thus the selection of the proper hair oil will not be a problem (www.nanoil.us). All women know what hair they have and how it reacts to treatments.
Furthermore, apart from many oil (depending on the version there are either 6 or 9 oils) it includes a range of other beautifying and nourishing ingredients. You will find: lanolin, panthenol, silk, keratin and very important sunscreen and vitamins A and E.
Moreover, Kerastim and Baicapil are innovative complexes that are included in all three versions of Nanoil. Such components are natural and perfectly regenerate hair, reinforce hair bulbs, prevent hair loss and boost hair growth. Those two ingredients are able to stimulate even dormant bulbs that later grow strong and healthy hair. As a result, your hair thickens, becomes fuller and denser.
3. Application
Nanoil Hair Oils can be applied in various ways. Depending on the amount of time you can devote to your hair care, you can leave the cosmetic in your hair and scalp overnight or perform a hair oiling treatment for about 30 minutes. Also, Nanoil can be used before or after shampooing, onto dry or damp hair, as a hair conditioner or a serum for damaged ends.
4. Effects
Nanoil Hair Oil works on both the surface as well as inside the hair. Thanks to such feature, firstly, it improves its appearance, shine, resilience, smoothness, and softness, secondly, regenerates hair from the inside by rebuilding broken sulphide bonds and replenishing keratin and vitamin deficiencies. Nanoil regenerates and reinforces hair bulbs – thus it provides complex regeneration and ensures rapid growth of strong strands.
5. Conclusion
Nanoil Hair Oils are a complex treatment that regenerate hair in only 30 days and beautify it from the very first use. The product is silicone, and paraben free, it also lacks SLS and SLES as well as petroleum derivatives. The cosmetic is completely safe for the scalp and hair. It not only nourishes but also improves the condition of your hair and successfully replaces a range of hair care cosmetics.
More about the product on: nanoil.us