1. Design, size, efficiency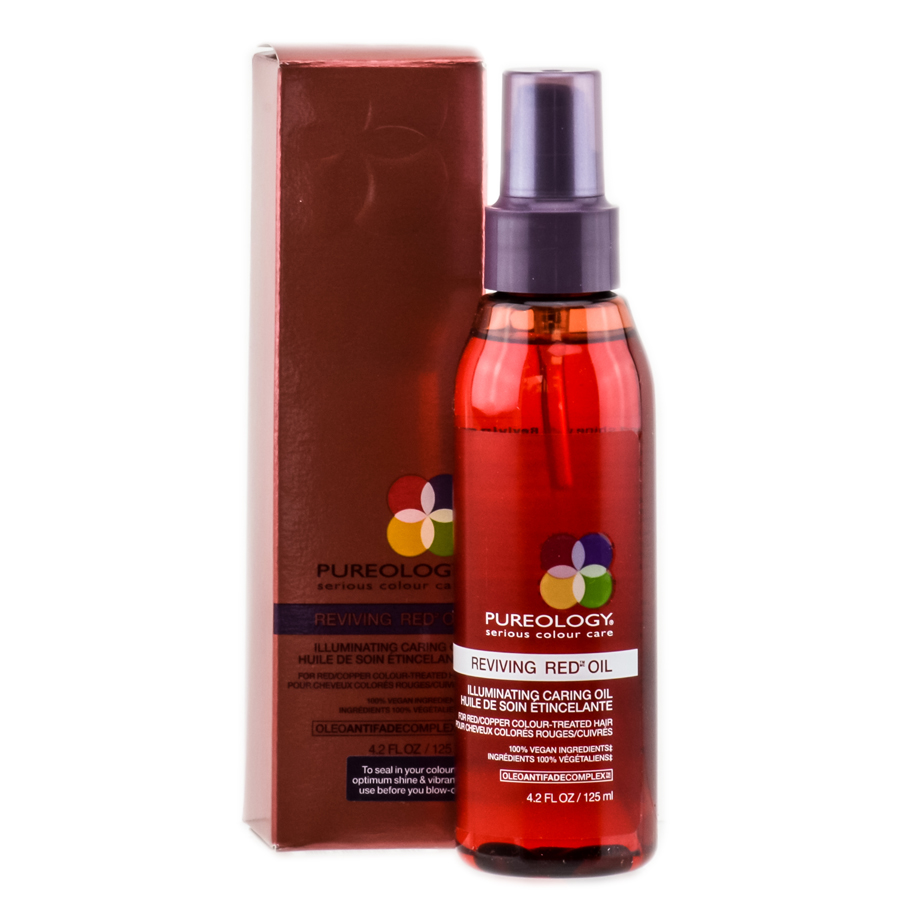 It is a red oil with a beautiful scent, large capacity (125 ml). It comes in a plastic bottle, facilitated with a purple pump. The bottle is closed with a plastic cap, which also prevents from spilling or accidentally pressing the pump. The product has a beautiful, floral – vegetable and fresh fragrance, which unfortunately, evaporates from our hair quite quickly.
Additionally, the cosmetic is efficient, it lasts for about 3 -4 months of use.
2. Composition
In the composition, we will find safe, 100% biodegradable components. Oil does not contain any parabens, silicones or sulphates. What is more, Pureology Serious Colour Care Reviving Red Oil does not contain ingredients of animal origin.
Moreover, it consists of two significant oils: sesame and sunflower.
Sesame oil perfectly cares of colour-treated hair. It prevents fading or unwanted highlighting of the wisps (for example, due to the influence of sun radiation). It has regenerating and nourishing properties, leaving hair glossy and resilient.
Sunflower oil strengthens hair and prevents loss of moisture. Instantly provides shine and conditions strands. Facilitates combing dry tangled hair. What is more, sunflower oil leaves hair silky soft and shiny. Thanks to the high content of linoleic acid from the omega-6 group, it slows down ageing processes of hair and effectively blocks adverse action of free radicals.
Unfortunately, the bad news is that oil contains monohydric alcohol, which belongs to the group of so called 'bad alcohols'. After a longer use, it can dry our hair.
3. Application
Pureology Serious Colour Care Reviving Red Oil surprises with versatility of use. You can use it before and after washing your hair, on both wet and dry strands, before or after styling as a product of conditioning properties, providing shine, as an addition to balms, conditioners and masks and even as an overnight treatment (you must rub the oil in your hair, leave it until the morning, then wash it off to getting rid of excess oil). What is more, oil will protect hair while colouring. For this purpose, you should apply it from mid-length hair and. Do not rinse it, only then apply the dye. As a result, ammonia will not damage your strands.
4. Effects
The main task of Pureology Serious Colour Care Reviving Red Oil is to enhance the beauty of coloured hair, provide lustre and take care of the appropriate level of moisture. Oil will protect hair from damage and it will also be a great addition to products for daily hair care. Applied before dyeing, protects wisps from the harmful effects of ammonia.
5. Conclusion
Oil receives applause for the lack of parabens and ingredients of animal origin. However, the biggest disadvantage of the product is the content of alcohol, which has drying effects. What is more, the product includes only two natural oils. Pureology Serious Colour Care Reviving Red Oil has a nice, fresh scent, which unfortunately, rapidly evaporates from hair. Additionally, the cosmetic amazes with variety of applications. Another big advantage is that you can use it directly before dyeing to protect hair from damage.