1. Design, size, efficiency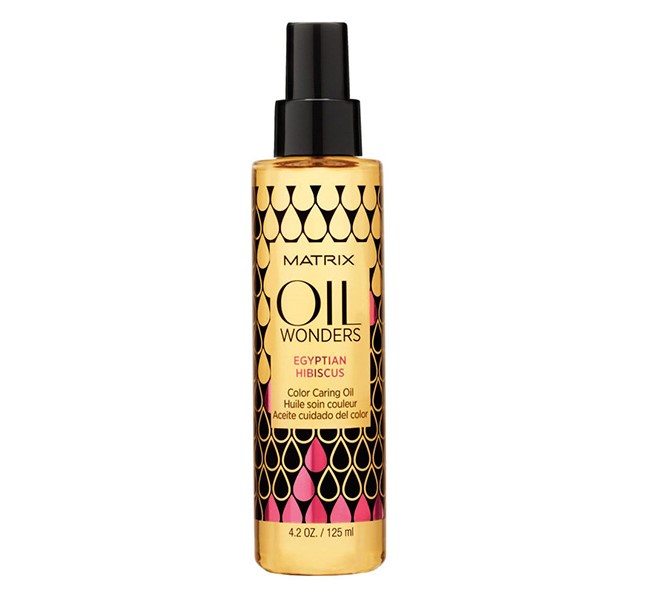 It is an oil in spray, with a capacity of 125 ml, sealed in a plastic, yellow bottle decorated with a pattern resembling small drops of liquid. The design has to reveal the content and purpose of the product, but unfortunately, compared to other cosmetics available on the market, the appearance of Matrix product is quite modest.
Oil in spray is quite efficient because for a single application, only 1 – 2 pumps of the preparation are necessary.
2. Composition
Matrix Oil Wonders owes its strength and effectiveness in the care of dyed hair mainly to olive oil and hibiscus extract.
Olive oil is a popular and delicate oil, for centuries known, valued and used in cosmetics for hair and skin care. It has strong regenerating, moisturising and polishing properties. Thanks to it, hair gains shine and volume and is not overburden. Olive oil is also a wealth of vitamin E called the vitamin of youth. It is valuable for youthful appearance, proper hair growth and to maintain resilience. Olive oil also contains natural UV filter that protects hair from harmful sun radiation.
Hibiscus extract is primarily responsible for providing lustre and strengthening colour-treated hair. However, its amount in the product from Matrix is unfortunately, very small. Matrix Oil Wonders also contains a healthy dose of polyol. This type of alcohol does not harm hair or overdry it. On the contrary, it ensures proper moisture level. It creates a special protective film on the hair surface, protects against damage and at the same time, adds flexibility and softness to the wisps.
3. Application
The application is very easy. Just spray the product on dry or wet hair. 1-2 pumps of the cosmetic are enough depending on the length and thickness of your strands. Do not rinse it. Oil is very comfortable and quick to use. Therefore, it will be especially useful for all busy people who limit their hair care to minimum and have no time for long treatments.
4. Effects
Matrix Oil Wonders leaves soft and glossy hair, instantly conditioning it. The cosmetic facilitates styling and gently protects wisps from damages. Additionally, the product speeds up the process of blow-drying.
5. Conclusion
Matrix Oil Wonders can be applied in only two ways (spraying over dry or damp hair). It will not provide dyed hair with thorough protection, however, it will condition and protect against damaging effects of the environment. Additionally, it does not allow hair to become dull. What is more, it is a perfect solution for people in a constant rush, due to the quick and easy application. Another disadvantage of the cosmetic is only one oil in the composition, a small content of hibiscus extract and the dominance of other synthetic ingredients.