1. Design, size, efficiency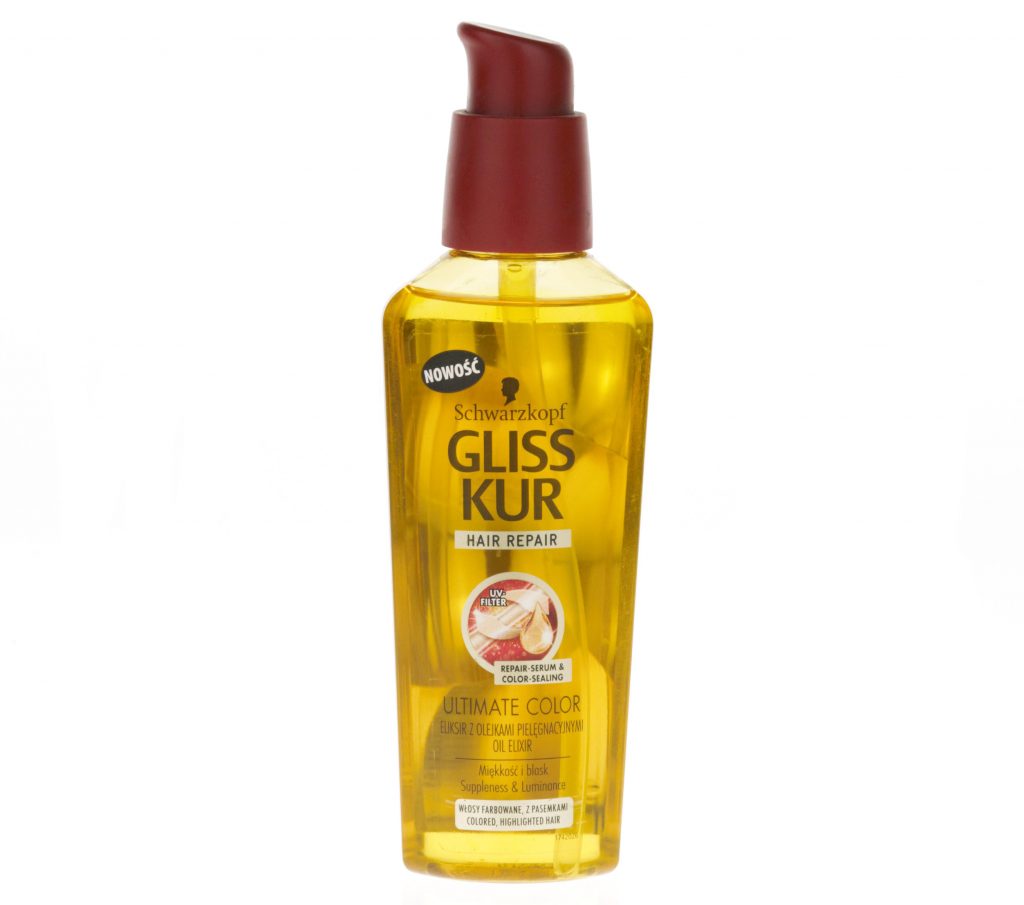 Gliss Kur Ultimate Color is an oil especially designed for colour-treated hair. It comes in a plastic bottle with the capacity of 75 ml. Oil is rather efficient and the application – easy.
However, at the end, the pump might get stuck and dose the oil inaccurately.
2. Composition
Gliss Kur Ultimate Color Elixir positively surprises with the content of natural oils. There are many. They are well composed. Their concentration in the product is high.
Sunflower oil – is a natural wealth of fatty acids (over 60% of linoleic acid from the group of omega-6). In its composition we will also find phospholipids, lecithin, carotene and vitamin E. Sunflower oil effectively strengthens hair, softens it, adds smoothness.
Macadamia oil – slows down ageing processes. Quickly and efficiently penetrates inside the hair, regenerating it and adding shine and softness at the same time. Macadamia oil protects hair during styling. The oil is the source of omega-7 fatty acid. Such ingredient is the main component of sebum secreted by human skin. With age, its level can loose balance – this results in excess or insufficiency of sebum. Macadamia oil regulates its secretion and improves processes taking place on the scalp. Thanks to it, hair is no longer coarse, fragile and overdried.
Sesame oil – boosts hair growth, protects from harmful sun radiation, slows down ageing process, adds shine and protects the colour of dyed hair. Sesame oil prevents premature greying of hair.
Olive oil – regenerates hair very efficiently, overcomes frizz and facilitates styling. Additionally, it will provide shine and prevent your hair from being dull.
Almond oil – is the source of vitamins A and E. They are responsible for good hair condition, resilience and prevent its loss. It leaves hair soft, glossy and moisturised. Additionally, it prevents from the influence of free radicals. Facilitates combing wet hair after washing.
Argan oil – controls proper level of moisture, protects it during many styling processes, such as: hot blow-drying, straightening, curling or dyeing.
3. Application
The application of Gliss Kur Ultimate Color is very comfortable. The product can be applied on damp hair as well as dry – before washing – you only need to leave it in for about 30 minutes. It can be used on damp hair – after washing – it is the perfect solution for all women who have extremely dry hair. There is no need to rinse it, it absorbs completely. Additionally, it protects and regenerates hair until the next washing. Gliss Kur Ultimate Color can also be applied on dry hair or only the ends. This procedure will instantly beautify our hair, add shine and tame unruly strands.
4. Effects
Gliss Kur Ultimate Color is a product that colour-treated hair will definitely be fond of. It contains a lot of natural oils. They are all well composed and selected especially to provide dyed strands with optimum care. The cosmetic instantly regenerates hair, protects it from mechanical damages. It enhances gloss and allows to enjoy beautiful, coloured-hair for longer.
5. Conclusion
Gliss Kur Ultimate Color is a good and efficient product, containing large amounts of natural oils. A small but handy bottle facilitates application, however, you must be careful with the pump that sometimes has the tendency to get stuck. Moreover, the product can be used in several ways – accordingly to your needs and time you are planning to devote for hair care. Furthermore, small capacity of the product slightly disqualifies it in comparison to other oils designed especially for dyed hair care.